♥ We are small family kennel of rough collies. Our aim is to breed healthy collies with well-balanced character and excellent exterior ♥
From youth we love animals, especially dogs…
When Miro was 11 years old, he had his very first dog called Trux (Smooth Fox Terrier), and then, when he was 15 years old, he got Slovakian Hound with pedigree – Erina spod Kunovej. In 1981 he established his own kennel of Bavarian Mountain Scent Hounds – "z Hradovej hory" – and his first brood bitch was "Christa Rojčianka" and she had 4 beautiful litters. Christa won the first prize on tracking tests (190p.). We loved her son "Cero z Hradovej hory", which accompanied us for 10 years. He was the second on tracking tests. We spent nice time with Baja "Bajadera Belohrad", which was also the second on tracking tests.
I fell in love with collies in youth, when my younger sister Stanislava (kennel Zelené Tuje) got rough collie on her birthday. I will never forget that moment she came into the room with her… It was "Borgia Tamburín", kind and loyal collie, I still think that she understood everything, not only our words, but also our thoughts. I also loved our other collies – tricolour female "Riccia ze Zlatého Lomu", sable female "Golden Gwendy ze Zlaté Jalny" and my most beloved was blue-merle female "Fantasy in Blue ze Zlaté Jalny", but I had to study so I could not spend so much time with them. I like to remember on that period, on puppies, their smell and sounds and also how we were taking care of them. Thanks to collies I met with the magic of dog shows.
In 2007, when Baja went over the rainbow bridge, we have returned to breeding collies, which are created into the family with children. As soon as we saw the photo of Mary, we did not hesitate any minute. Mary – Csóványospataki Máriya – Gold – was sable female, imported from Hungary. When she came into our family, we didn't know that one day she will be Interchampion. She was very friendly and loyal collie with a big heart, we will never forget about her. In 2008, we imported french sable dog Discovered Dream du Clos de Seawind "Drimi" – our big teddy bear, which also fulfilled conditions for the title Interchampion. In 2010 another member of our family became very beautiful sable female – Sea Dreamer´s La Mer at Amnis Rhei – "La Mér", which surprises us every day with her intelligence. In 2011 we imported 2 females – sable one – Begasuka´s Enigma Evangelina "Engie", our sunshine, not only because of her character, but also her enjoyment of warming in the sun – and tricolour one – "Gina" Ginger Black du Clos de Seawind, very dutiful and loyal female. In 2013 we have decided to keep "Cola" Coca Cola Amnis Rhei, after "La Mér", and we imported tricolour dog from France – Inspire Black du Clos de Seawind "Jamie". This year our kennel is enriched by "Kaylin" Kayleen Amnis Rhei, after "Engie" and "Sunny" (Asan Fellow of Eternity) – grandson of "Drimi".
4 collies from our kennel fulfilled conditions for the title Interchampion – Coca Cola, Clarity, Damien Black and Kayleen Amnis Rhei.
In 2008, our kennel 'Amnis Rhei' was established. Amnis means river/torrent and Rhei means flowing. When we were choosing name of our kennel, we were inspired by the philosophy – Panta Rhei (everything flows), it follows a saying of Heraclitus (Greek philosopher) : "No man ever steps in the same river twice, for it's not the same river and he's not the same man." The river is a symbol and objectification of our time… Care about cleanliness of the river is a necessity for life.
In 2012, we had our very first litter of collies. We are glad, that puppies from our kennel make their new families happy. We wish them many nice moments spent together.
Collies are our very pleasant companions, who bring us a lot of nice moments in the circle of family and friends.
Michaela Petríková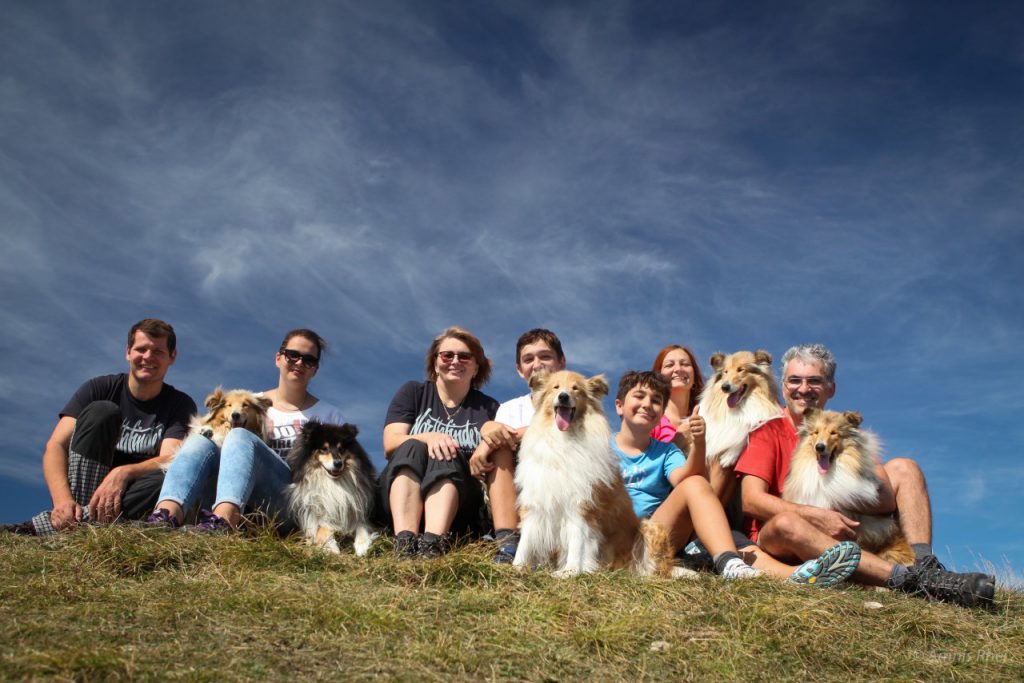 MUDr. Michaela Petríková
MVDr. Miroslav Petrík (Facebook)
Sofia Petríková
Prešov, Slovakia
e-mail: info@amnisrhei.sk