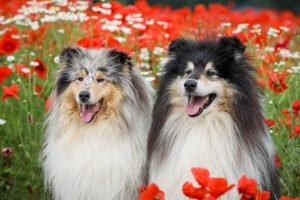 ❤️ It is with great pleasure to announce the arrival of the puppies in our kennel. Puppies were born on the 6th of November late in the evening. We have 3 tricolour girls and 1 blue-merle boy, all 4 are very strong and lively since birth and they have absolutely gorgeous coloring. This is our long-planned litter and we are so thankful and happy that our dream came true.
🖤 Father of the puppies – our Jamie (Inspire Black du Clos de Seawind) has obtained many titles, from which the most important are the title of Interchampion and Champion of France, which he also got thanks to 2 r.CAC at ENE (2016 & 2017), where he impressed not only with his sweet expression, but also with his wonderful movement. He also entered many other large and special shows and won many CAJCs, CACs, CACIBs, BOBs, BOG and BISs also from breed-specialists (to name a few: Claire Cadot, Anne Socolovert, Jean-Claude Larive, Jeff Luscott, Wiel Smeijsters, Christophe Dancoisne, Michel Mocqué, Judith Kórosz-Papp, István Székely). Jamie – our darling – has a balanced and friendly nature, as evidenced by the fact that he passed the character test for 14 points out of 16 and as one of the few rough collies he has passed the BH / VT obedience test.
💙 Mother of the puppies is our Ricci (Nina Ricci Blue du Clos de Windmire). We have always admired collies from kennel du Clos de Windmire, one of them is Floride du Clos de Windmire that is absolutely beautiful female with lovely friendly character and as the icing on the cake – fantastic mother of always strong and beautiful puppies and with no problems during pregnancy. The same was Floride´s mother – Câline de Midland Valley and Floride´s litter-brother – Flynn Errol du Clos de Windmire is excellent natural stud dog. That´s the reason why we have decided to buy a puppy girl form this outstanding line, believing that these qualities will be preserved in future generations. Ricci inherited all these qualities (including her excellent exterior and exceptional character) and she is the first-class mother of her puppies.
Both parents are HD A/A, ED 0/0, CEA/PRA/KAT – clinically free, MDR +/- and DM +/-

Info: Blue-merle female
Breeder: Michel Mocqué (le Clos de Windmire), France

CEA/PRA/KAT – free.
MDR1: +/-
DM: +/-
Photo gallery
M vrh Amnis Rhei